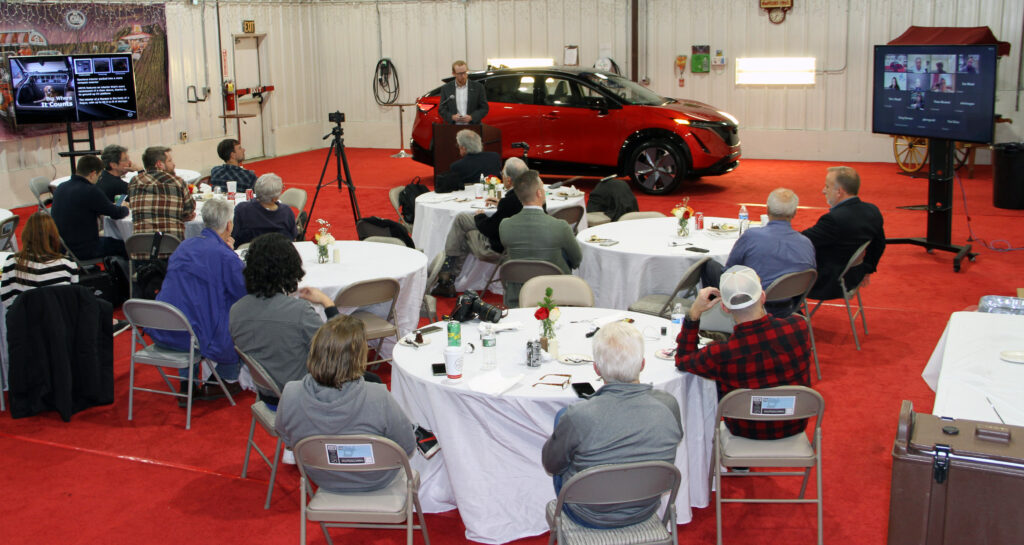 Nissan's eagerly awaited all-electric Ariya e-4ORCE SUV recently graced the New England Motor Press Association (NEMPA) garage. Ross Proffitt, Nissan's Senior Manager of EV Transformation, presented the sleek, all-new Nissan Ariya SUV during the visit.
The Ariya marks a significant leap for Nissan, a brand that pioneered mass-market electric vehicles with the Nissan LEAF, first introduced in December 2010. Over the years, the LEAF underwent redesigns to enhance range and aesthetics, but the Ariya represents the next-generation EV Nissan enthusiasts have been anticipating.
Equipped with dual electric motors and cutting-edge all-wheel drive technology, this robust SUV delivers an impressive EPA estimated range of up to 272 miles on a single charge (Engage+ e-4ORCE & Evolve+ e-4ORCE Trims). The Ariya e-4ORCE boasts a futuristic design, featuring a 12.3-inch digital display, voice-activated commands, and a blend of power and sophistication sure to make heads turn.
One standout feature of the Nissan Ariya e-4ORCE is its advanced all-wheel drive technology. Sporting dual electric motors—one on each axle—the Ariya delivers superior traction and stability. The system adeptly distributes torque to each wheel based on road conditions, offering optimal control and agility in diverse driving scenarios. Additionally, the Ariya e-4ORCE incorporates Nissan's Intelligent Trace Control, leveraging brake pressure and torque vectoring to enhance stability and control while cornering. The Ariya's e-4ORCE powertrain has been included on WardsAuto's '10 Best Engines and Propulsion Systems' list for 2023
Enhanced safety features make the Ariya e-4ORCE even more compelling. Equipped with ProPILOT Assist 2.0, the vehicle integrates adaptive cruise control, lane departure warning, and lane-keeping assist for a safer and more efficient driving experience. The Ariya e-4ORCE, with its array of advanced features, marks a significant advancement in the realm of all-electric SUVs, paving the way for a promising future in the EV market, with its showcase at the NEMPA garage just the beginning of what's to come.